Anodised Aluminium Medal Round with plain coloured ribbon
Anodised Aluminium Medal Round: Round anodised aluminium medal finished with laser engraving. All medals come with a plain ribbon as standard.
Medal colours: Red, Black, Silver
Decoration process: Laser engraved with fibre optic laser. The laser finish is white which gives a good contrast against the medal colour. This medal is ideal for medals where no colour finish is required.
Weight: 30gms
Medal dimensions: 60mm diameter x 4mm thick
Ribbon dimensions: 860mm x 23mm
Decoration area: 60mm diameter
Lead time: 7 full working days from approval of design.
MOQ: 6
PRICING BELOW IS INCLUSIVE OF VAT
IMAGES OF THIS PRODUCT ARE FOR ILLUSTRATION PURPOSES ONLY. YOUR PRODUCT WILL BE 100% DESIGNED AROUND YOUR LOGO, IMAGES AND TEXT.
Medals for sporting events
| | |
| --- | --- |
| 6 - 11 | £5.50 |
| 12 - 24 | £3.95 |
| 25 - 50 | £3.11 |
| 51 - 100 | £2.68 |
| 101 - 249 | £2.42 |
| 250+ | £2.23 |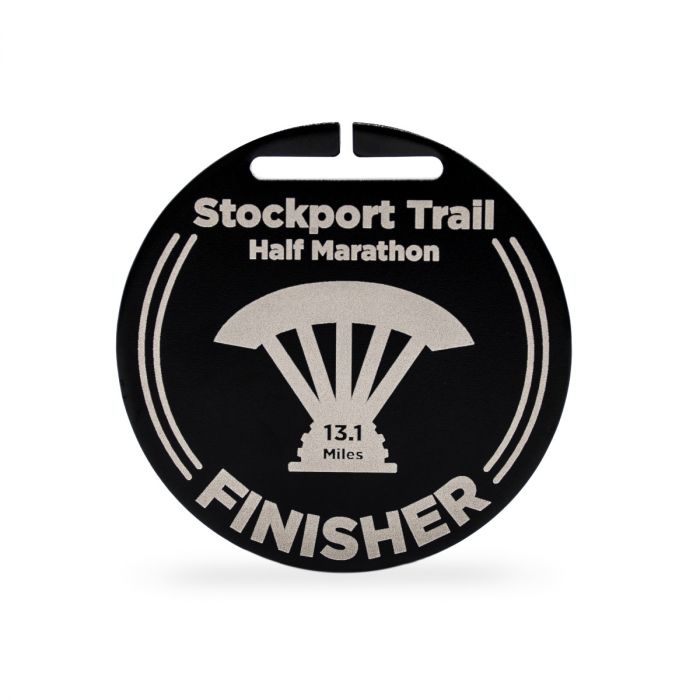 Order process: Once we have received your order, our design team will prepare a visual presentation of your medal which will be e-mailed to you. We will not start production of your order until you are happy and have approved the design back to us via e-mail. If you need to make any amends you can do so by e-mail.
What is included in the headline price:
Medal design service, medal with custom decoration to the front of the medal, plain coloured ribbon, VAT.
Additional optional services:
Optional rear engraving: The medals can have an optional rear engraving on them at an additional charge. You can add this option for an additional cost of £0.50 per medal when placing your order.
Optional individual personalisation: Each individual medal can be personalised at an additional cost. For example each medal could have the same overall design but with an individuals' name on each. You can add this option for an additional cost of £0.50 per medal when placing your order. Please note, that if the personalisation is to be on the rear of the medal you will need to choose the rear printing option as well.
Optional printed ribbon: If you are ordering over 100 medals, a printed ribbon option will appear. Printed ribbons come at an additional cost of 80p each. 
Personalised sports medals